How to create a table of contents in your digital edition
By adding bookmarks into your PDF you are able to create a 'Table of Contents' for your digitial edition, offering your digital reader another layer of navigation. Bookmarking key areas within your PDF will add a 'Table Of Contents' section to your digital edition, this will enhance your readers digital overall experience
Adding a bookmark is easy to do. Once your have your PDF open with Acrobat Pro and are on the page you want to create a bookmark for, select the bookmark option from the left hand menu. This is the second icon down and looks a like litle a 'ribbon'.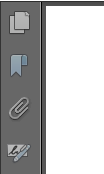 Once clicked this expands out another small menu.

The first icon will delete a bookmark, the second icon will create a new bookmark for the page that you are viewing within the PDF. When you click this icon it will create a bookmark call 'untitled' – you are now able to give this bookmark a meaningful description. Remember it is this description that your digital reader will see in your app so give this description a little thought.
When the PDF is saved – the bookmarks that you have created will be carried through to the digital edition that will display within your app and go to form the 'Table Of Contents'.
The 'Table of Contents' is displayed as a icon consisting of a bulleted list and is displayed in the top right hand side of the app. This is located to the left of the Search icon/button.

Clicking on the 'Table of Contents' button will show the the reader the list of bookmarks that you previously created.

As you can see, the descriptions that you entered within the PDF are now displayed, as well as an indication as to which page it will take you to. The reader can now click on a 'Table of Contents' item and jump straight to that page.
Please Note: We only support this feature if the bookmarks are created within Adobe Acrobat Pro. Bookmarks created with other applications may not translate correctly through to the final published digital edition.