How to send an push notification message.
In this section you are able to send a notification to everyone that have downloaded your app, it is important to remember that people can opt out of push notification messages.
Select Option 3 Send Notification this will take you to the Send Push Notifications Screen.

Here you can add your message that will be sent out as a notification. This message can be a maximum of 128 characters.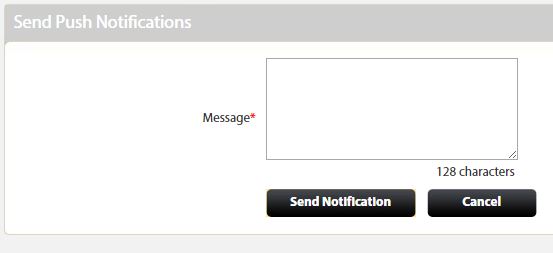 Once you have entered your message – hit the Send Notification button or the Cancel button to cancel the message.
Push Notification messages are sent via the 'app store' servers, so whilst they are generally instant there can be a delay if the servers are busy.
These messages are displayed in the notification area of the device on which your app is installed/loaded.
Please note: Users can opt out of receiving notification messages from your app